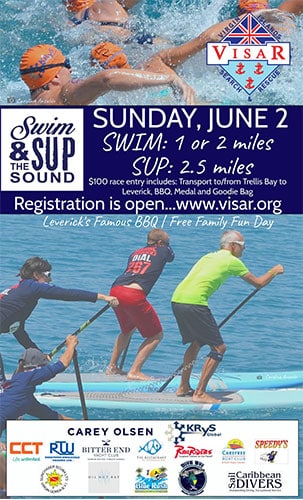 By Carine Locher
Mar 22, 2019
Join us for our annual fundraiser, Swim and SUP the Sound 2019 and Family Fun Day on Sunday, June 2nd!
To register for the race or the cheer squad visit our events tab on this website.
Race categories are as follows:
One Mile Swim
One Mile Assisted Swim (mask, fins and snorkel or mermaid costume…feel free to get creative)
Two Mile Swim
Two Mile Assisted Swim
2.5 Mile Stand Up Paddle-board (SUP)
Sponsors and Partners…This event couldn't happen without the support of Co-Sponsors; KRyS Global and Carey Olsen as well as CCT, Road Town Wholesale, Bitter End Yacht Club, Leverick Bay, Carefree Boating Club, Speedy's Ferry, RailRiders, Sail Caribbean Divers, Dive BVI, Sunchaser, Oil Nut Bay, and Blue Rush Watersports.