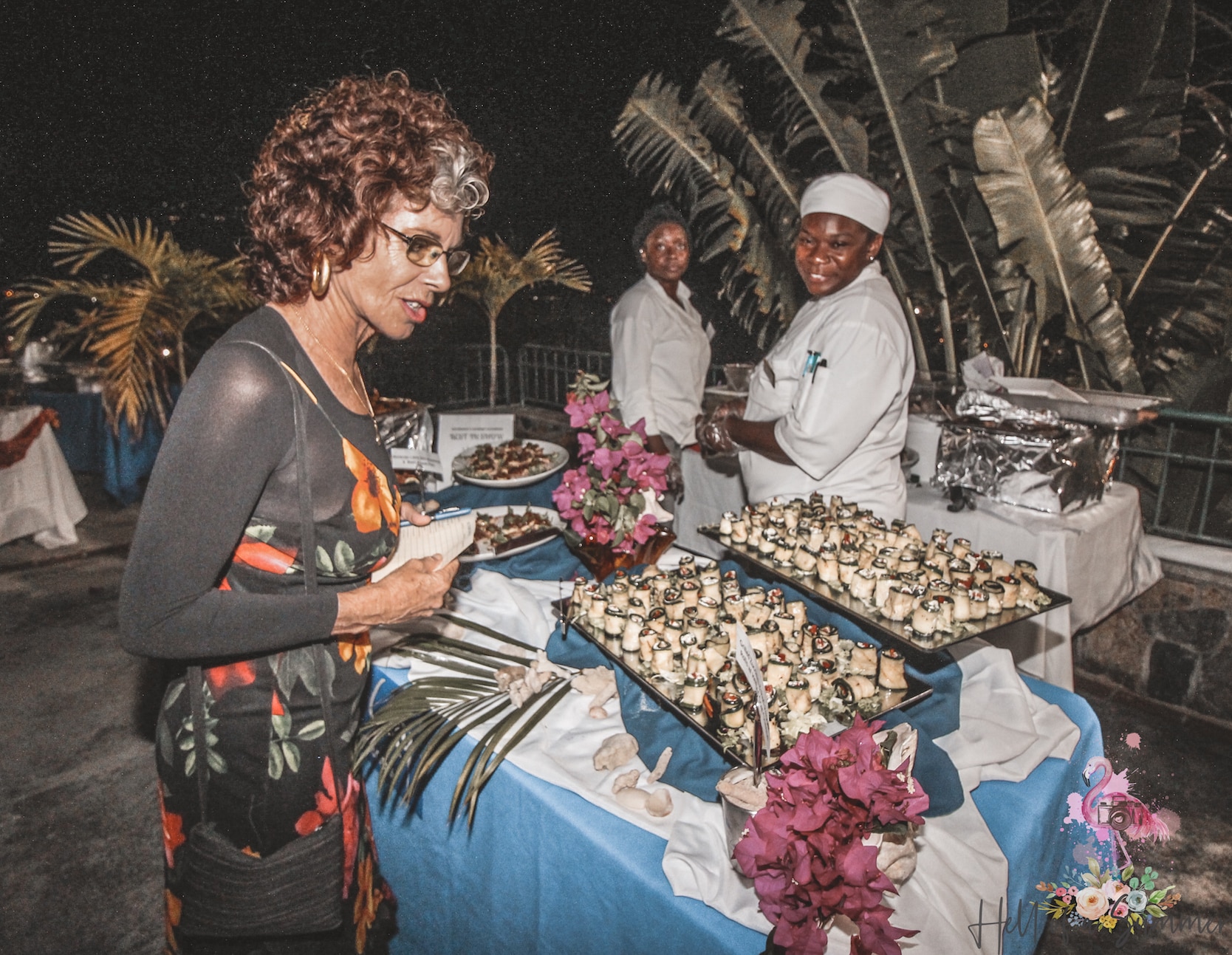 By Carine Locher
Feb 28, 2020
Governor's Gourmet Gathering 2020
This year's event was a huge success!  With over 30 raffle prizes, 10 amazing live auction prizes, 19 food and drink vendors and a BEST IN SHOW contest, it was no surprise that the event was SOLD OUT! 
We raised $50,000 which is a new record for VISAR! This brings us one step closer to securing the final deposit on Virgin Gorda's new rescue vessel which will hopefully will be on station in September 2020.
 "Kevin (Red Rock Restaurant), a young and vibrant chef, brought his A game and definitely showed how passionate he is about food," the farm stated in a Facebook post. "We want to publicly thank VISAR for the invitation and Plant Wise for making sure we were included."…Mill Round Farm winner of the BEST IN SHOW along with Red Rock Restaurant 
GGG History
 The Governor of the British Virgin Islands is traditionally the Patron of VISAR, and he and his wife open up their home to host this yearly fundraiser. The event takes place under the stars with 10-12 local restaurants that prepare delicious bite site portions of their top menu items for the 150 guests to enjoy.  The evening also features live music, open bar, dozens of raffles prizes, and a selection of live auction items. The participating restaurants donate their chef's time as well as all of the food or drinks.  
A New Twist This Year…
In addition to the wonderful dishes the local restaurants create for the evening, they will also be producing a "Best in Show" dish that YOU will get to judge! Each restaurant will be paired with a local farm that will donate enough of the same produce for each restaurant to create a dish based on their interpretation of how to best showcase the produce. After speaking with the farms, we've decided on arugula and basil due to its great abundance. Then at the event, each guest will get a rating sheet and choose the "best in show" which will be announced at the end of the evening. We can't wait to see what the Chef's come up with!
Featured vendors
Restaurants and Bakery's: Bitter End Yacht Club, Cookie Faery, The Dove, Cocomaya, French Deli & Gourmet Shop, Grape Expectations, Jblakx, Nanny Cay, Omar's Fusion, P's Sweet Treats, Red Rock, and Taste of India. 
Wine and Beer Providers: Government House, The Tola Beverage Company (Tola Beer), TICO and Road Town Wholesale.
Local BVI Farms: Agri-Paradise, Full Belly Farm, Plant Wise, Mill House Farm and Tidal Roots Farm.
Live Auction and Raffle Supporters: Aeropost, Amara Spa, Aristocat Charters, Aromas Bar, AyurRelax Natural Wellness Spa, JBlakx Jerk BBQ, Blue Water Divers, Bradley Powerboat Charters and Rentals, BVI Snuba, BVI Yacht Charters, Blue Horizon and Virgin Motor Yachts, CCT, Cooper Island Beach Club, DIVE BVI, Driftwood Spa, Tropic Ocean Airways, Guana Island, Guavaberry Spring Bay Vacation Homes, Island Surf and Sail, Lady Sarah's Farm, Rosewood Little Dix Bay, Marine Maintenance Service, Necker Island, Agri Paradise Virgin Gorda, Nanny Cay Resort and Marina, Offshore Sailing School, RailRiders, Red Rock Restaurant, Sail Caribbean Divers, Scrub Island, Spa and Sparkle VG, Sugarcane Restaurant at Nail Bay, Sunchaser Scuba, The Moorings, TICO, Tortola Sailing and Sights, Willy T, Arawak, Bougainvillea Clinic, The Spa at Leverick Bay, Solitude Day Spa, Chez Bamboo-Bath and Turtle, The Restaurant at Leverick Bay, Drakes Traders, Premier Live, and Virgin Textiles. 
Special Thank You to Governor's Office British Virgin Islands, CBN Virgin Islands, 284 Media, The 3G's Band, Tool Town, Drakes Traders and Grape Expectations.