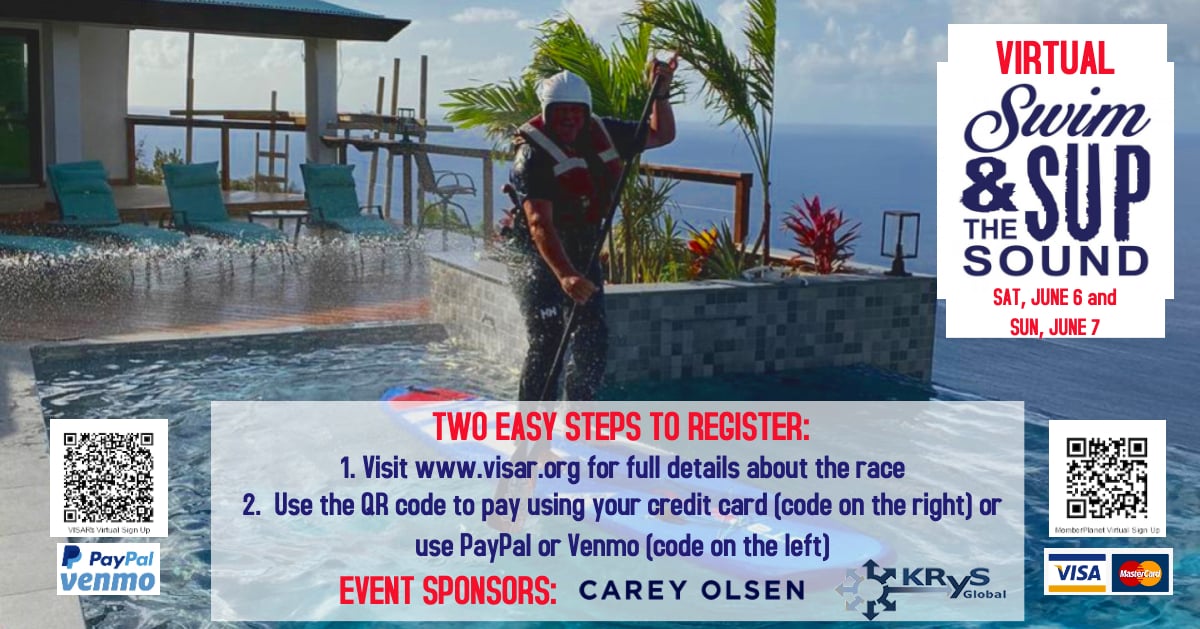 By Carine Locher
May 18, 2020
VIRTUAL Swim and SUP the Sound
Join us VIRTUALLY for our annual fundraiser, Swim and SUP the Sound 2020 on Saturday, June 6th and Sunday, June 7th, sponsored by Carey Olsen and KRyS Global!  It's virtual so all are welcomed to sign up, even if you're not in the BVI.
"A picture is worth a thousand words" or in our case some really cool prizes!  So get your cheer squad together and have some fun capturing the fun. Please send or post photos by Wed, June 19 to  [email protected], post to our Facebook page or #virtualvisar to enter.
Photo Contest Categories: Best Costume/Fancy Dress | Farthest Away | Having the Most Fun | Most Exhausted | Best Social Distancing | Best Pet Photo | Best Nature Setting | Most VISAR Spirit  | Kids Categories: Biggest Splash, Biggest Smile, and Most Excited 
Registration is now closed and we thank the 190 participants and our sponsors for such a wonderful event! 
Race CatEgories:  
Can be completed in open water, lakes, rivers, pools, bathtubs, etc.
Swimming Assisted or Non-Assisted:
Half-mile swim | 1-mile swim | 2-mile swim
Stand Up Paddle Board:
1-mile SUP | 2-mile SUP
Kayaking:
Half mile kayak | 1-mile kayak | 2-mile kayak
Family Race: Enter as a family to do any type of swimming, including paddling, splashing, jumping or SUP'ing or kayaking. Parents / Caregivers and any number of children under the age of 8 years old. Over 8 will need their own registration. 
What is a virtual race?
A virtual race can take place from any location you choose. You can choose to swim, SUP, or kayak, in the ocean, lake, river, bathtub, pool, anywhere there is water. You get to participate in your own race, at your own pace, and time it yourself throughout the weekend (once date is announced).  For those that purchased a race t-shirt, it will be ready for collection after the race or shipped to you if you're outside the BVI.
What does my entry fee get me?
By signing up for the virtual race, you'll be helping VISAR continue our mission of Saving Lives at Sea.  Like most organizations and businesses around the world, VISAR is currently unable to host in-person fundraisers, and without the charter industry operating, we are unable to rely on their donations, which helps make up half of our annual operating budget. Your donation will 100% go towards making sure our we can replenish medical supplies and keep our rescue boats in top working condition. 
Is this for fun or a real race?
Whatever you choose!  For those that submit their proof of completion by emailing screenshots of their GPS watch (Fitbit and Garmin, etc.) or other sports apps, we will compile the results and announce the winners of each category for women and men, boys and girls. 
For those that just want to have fun, we will be giving away prizes in various categories for anyone that posts photos on social media or emails us.
Do I need to be in the BVI to compete?
No, you can enter to compete from anywhere in the world!  International competitors just need to keep in mind it may take some time for your T-shirt and/or prize to reach you.
What if I'm still in lockdown due to COVID-19?
If the bathtub or your pool isn't an option, then sadly, you won't be able to participate. VISAR takes the COVID-19 pandemic very seriously, and we ask that you follow all rules and regulations set out by your government.  
I'm in the BVI but I don't have a GPS watch, how will I know how far to swim, SUP or kayak?
We've mapped out the distance for most of the popular beaches in the BVI.  These maps will be posted on our Facebook.
Can I pay using PayPal or Venmo? 
Yes, you can BUT you'll need to register first! Click HERE to register.
What's Memberplanet?  
Memberplanet is the online tool VISAR uses to collect donations and for event registration.  This site accepts VISA and MasterCard directly. 
Why are the T-Shirts so expensive? 
Shipping!