VISAR's Winter Wonderland
Hosted by the cyril b romney tortola pier park 
The British Virgin Islands will be making history this holiday season as VISAR's Winter Wonderland will be the first ever synthetic Ice Skating Rink in the Leeward Antilles! VISAR's new annual fundraiser will also feature a quaint holiday village, nightly snow fall and family events on the weekend.
Our goal is to create fun, affordable family friendly event to create a lifetime of holiday memories while also raising the necessary funding to keep our doors open. 
Rink opens on Saturday, Nov 28th
skating to save lives at sea
Rink Information
Skating Fee: $10 a skater for 30 mins on the ice, which includes skates.  Socks are required and will be for sale at a minimal price for those that need them.
Opening Hours: During the week, the rink will be open from 2 pm -7 pm, and on weekends until 10 pm.  For special events, the rink will be closed to the public.  Opening times may change depending whether the cruise ship industry is operational. The rink will open on Saturday, Nov. 28th, 2020, and close for the season on Wednesday, Jan. 6th, 2021.  
Liability Waiver and Skaters Under 18 Yrs Old:  All skaters must sign a waiver and follow the 'Code of Conduct for Skaters'.  Anyone under 18 years old will need to present a signed waiver by a parent or guardian in order to skate; anyone under 12 years old will need to be accompanied to the ice rink by a parent or guardian and, anyone under 6 years old will need a parent or guardian on the ice with them when skating.
Merchandise: We will be selling socks, Santa hats and headbands, VISAR event branded gear, cotton candy, and popcorn.
Sponsors and Community Partners: Roger Harris, Diamonds International, Island Boy Mirror Booth Rental, CTL, CCT, Dive BVI, GK Construction, Grape Expectations, Kalo, Klass Electronics, KrYS  Global, Oil Nut Bay, Sail Caribbean Divers, Speedy's Ferry, Taino Boutique, Tovel Investments Ltd, Travers Thorp Alberga, Department of Labour, Ministry of Education, and the tenants and team at the Cyril B Romney Tortola Pier Park. 
Quick Reference Q&A's.
If you have any questions please contact Julie at  [email protected] or via WhatsApp +1 284.345.4357.
What is a synthetic ice skating rink?
The rink is produced by the Swiss company Glice. They have designed a new ecological technology to create an ice skating rink that needs no electricity!
Will I actually be ice skating if there's no ice?
Yes, you will!
The technology that Glice has designed, allows you to wear real ice skating boots with a blade (no toe pick).
For the little ones, we have, on a first come first serve basis, skating aids to help you get comfortable on the ice.
If you grew up on the ice, you'll be excited to know, this rink is rated for ice hockey!
What COVID-19 precautions will be in place?
The rink is rated for 35 skaters at a time however we will only be allowing 20 skaters and two staff on the ice.
Due to COVID-19 regulations, there will be a gap between skating sessions which will allow the rink staff and volunteers to wipe down the handrails, skates, and skating aids.
At this time all skaters will be required to wear a mask and hand sanitize before getting on the ice and after.
How can I enter to win a one hour private skating session for 20 people?
It's easy! 
Between November 28th and Christmas Day, post a picture on your social media (Facebook or Instagram), tagging #visar767, and in the caption tell us what Virgin Islands Search and Rescue means to you.
Our fundraising committee will select the top 10 photos and captions and we will post them on our Facebook and Instagram page. On New Years Day the photo with the most likes will win a one-hour private skating session for 20 people!
You must be on island to redeem and VISAR crew and family members are not eligible to win. The Skating session can be redeemed from Jan 2-6.
Can I reserve a time on the ice in advanced?
Yes, you can!
Each 30-minute session will allow for 20 skaters at a time.  If you know when you'd like to skate, you can either call 284.499. 0913 and pay via credit card over the phone or stop down to the rink and pay in person.  Reservations must be paid in full.
Please note your reservation time and show up at least 15 minutes before your session.  If you are late, our team will do the best they can to reschedule your skating session but we can't guarantee they'll be space.  No refunds will be given. 
What happens if I've paid but I'm late?
If you've paid and missed your reserved skating session, our team members will do the best they can to reschedule you for the next open slot.  However, we can't guarantee we will have spaces available that day and there will be no refunds. 
What other family events will be going on?
Yes, we will and a calendar of events is being drafted at this moment.
SAVE THE DATE:
Hanukkah Story Time and Crafts Sponsored by Diamonds International on Sunday, Dec 13
Christmas Story Time and Crafts Sponsored by CCT on Sunday, Dec 20
Kwanzaa Story Time and Crafts Sponsored by CTL and Taino Boutique on Sunday, Dec 27
Time: TBD
Cost: Free but donations to VISAR are welcome
Limited slots are available which will be determined by social distancing rules and regulations at that time.  Sign up is recommended by calling 284.499.0913.
Is there Autism and Sensory Friendly skating?
VISAR would like to accommodate all skaters, if someone in your family needs a little more space on the ice or any other accommodations, please email
[email protected]
Can I rent the rink for a private party?
YES, you can!
Please contact Julie at [email protected] or 345.4357 to learn more.
We will be offering weekday or weekend evenings for local businesses or families to hold their holiday parties at the rink.  This will give your business private use of the rink and Holiday Village!  The VISAR Team will handle all of your party planning needs and will customize a menu for the evening.
Rental Donation: Packages will start at $1,000 an hour for 50 people; food, drink and live entertainment offerings will be offered at an additional cost.  Two-hour minimum.
Can I advertise my business at the rink?
YES, you can! Please contact Julie at [email protected] or 345.4357 to discuss how you can partner with us on this very exciting event!
Dasher Boards: Are the barrier that separates the rink and the spectator and makes for the perfect advertising space.  Each dasher board is 6 feet in length and allows for your company's name to be prominently displayed, either on the dasher boards inside the rink or on the outside. This will provide your business great community exposure while also supporting a great cause.
Advertising Donation: Inside Dasher Board: $800 each | Outside dasher board: $500 each
 A North Pole Visit: Santa Claus will be visiting the pier park for one special day on Sunday, December 6th, to take traditional photos and hear what the little ones are wishing for Christmas.  The event will also include storytime, specially themed crafts, along with a "Letters to Santa" mailbox and finishing off with Santa's visit. The event will be branded with your companies logo in all pre-event material and the day of the event.
Sponsorship Donation: $5,000
Winter Wonderland Village: The village will consist of three wooden houses that will sell VISAR merchandise and goodies, Tortola Pier Park partner sweet treats, and a photo booth.  The houses will create the ultimate winter atmosphere along with the rink will be the centerpiece of the village.  This is a chance to showcase your company's skills giving the community the ability to see first-hand what they can expect should they hire you to build their own home.
Advertising Donation: Following construction specifications, your donation will be the materials, construction, decorations, set up and break down of the house.
Advertising Perks: Your company's logo will be featured on the front of the house along with a space for your companies' details, logo placed on one shared dasher board (logo will be 3 feet), event calendars, and website. You will also receive tickets to our "invited dress rehearsal" on Friday, November 27th.
Can my business hold a marketing event at the rink?
YES, you can!
Please contact Julie at [email protected] or 345.4357 to discuss how you can partner with us on this very exciting event!
Weekend Evening Skate Session: Each weekend evening, we will be offering the chance for a local business to host a special theme night for the community at the rink. This will give you a unique opportunity to engage with the community while also branding the event to high light your business. Themes could include 70's disco night, Date night under the stars, Ugly Sweater Contest, and much more.
Sponsorship Donation: Two-hour event: $1000 and $350 per additional hour; plus the cost of entertainment
Are you hiring?
Yes, we are!
We will have a limited number of positions to fill on a part-time, seven-week contract basis. BVI Belongers, BVI Residents, or work permit exemption holders will be considered.
Please contact the Department of Labour to submit your resumes. 
Interviews will be held in early November.
Can I volunteer to fulfil my community service hours for graduation?
We are overwhelmed with the positive response for community service hours for our new fundraiser. At this time we are no longer accepting candidates.
Please read the 'Skater's Code of Conduct'
Your content goes here. Edit or remove this text inline or in the module Content settings. You can also style every aspect of this content in the module Design settings and even apply custom CSS to this text in the module Advanced settings.
28/11/2020
$10 for 30 minutes on the ice
Event Location
Cyril B Romney Tortola Pier Park – On the lawn
Event Flyer Image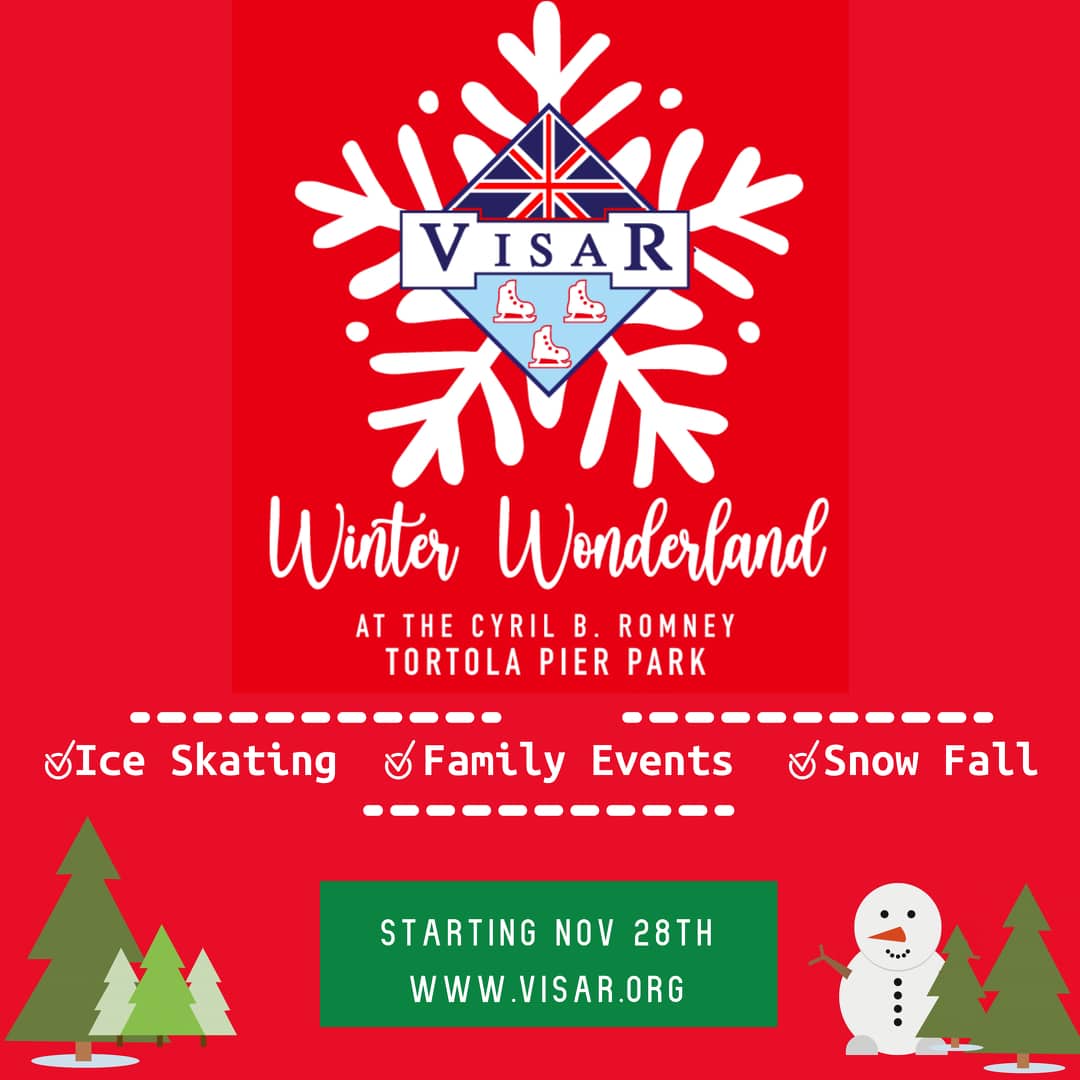 Event Sponsors