8-Bit Gaming Fundraising TOURNAMENT 
Four students from the Elmore Stoutt High School wanted to give back to VISAR while earning their community service hours​​ and have put together this gaming tournament to benefit VISAR!  100% of the proceeds from the tournament will go towards producing a series of six safety videos to help inform the community and visitors how to stay safe while enjoying the beautiful BVI waters.
Ticket Prices: $20 to enter the tournament with VIP Access,  $10 for Spectators ($15 at the door) and $30 for Spectator VIP Access. Click HERE to purchase tickets. 
Light food will be provided by Government House and VIP Access includes reserved seating and access to special snacks and drinks from Road Town Wholesale.  Alcohol will be available for anyone 18 years and older with valid ID.
Challenge your gaming skills while giving back to the community! 
How it works
 1. Click HERE to sign up for the event online, or with one of the student organizers or call/whatsapp VISAR's office at 345.4357.
2. Once you've signed up you will either choose to play Madden 20 or NBA2K20.  
3. You will then be given two challenges to complete which will determine if you'll head to the semi-finals.  
4. The challenges will be completed at home, and you'll video yourself completing at least the last 20 seconds of the challenge. Video must include a full shot of you playing the final 20 seconds and a close up shot of the score. 
5. Videos must be emailed to [email protected] by Wednesday, March 11th.  
​6. Semi-finalists will be announced on VISAR's social media ​on Thrusday, March 12th.
the challenges
 NBA2k20 Challenges:
1. Score 81 with Kobe Bryant against the Toronto Raptors, playing on Hall Of Fame Difficulty.
2. Break Klay Thompson's three point record using a player with a C grade for their three point rating, playing on Hall Of Fame Difficulty.
Madden 20 Challenges
1. Get 5 touchdowns in one game on the hardest difficulty and score a touchdown with the slowest player in the game on the hardest difficulty
2.  Coming Soon!
the twist
The semi-finals and the final round will not only challenge your gaming skills but you'll be tested mentally and physically! 
During the game when the bull horn goes off, contestants will spin the wheel to find out their challenge. Categories will include trivia questions about the BVI, VISAR, and video games, as well as physical challenges like dribbling the longest, obstacle courses, and more and the final component will be "ask the audience."  Either points or time will be added to your end score!
the prizes
First Place: Either a new gaming console or $500 cash from CCT
Second Place: A new tablet from Klass Electronics
Third Place: All third place contestants plus a guest will enjoy a ride of VISAR's Rescue Vessel, SPIRIT OF TORTOLA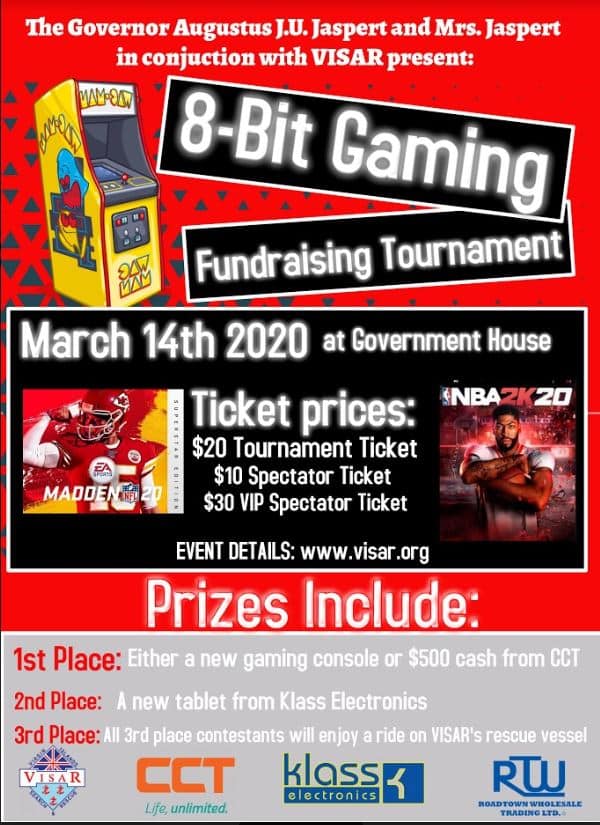 14/03/2020
Gaming Competitor $22.00 - Attendee $12.00 - VIP Attendee $32.00
Event Location
Government House
Waterfront Drive, Road Town, Tortola VG1110
Event Flyer Image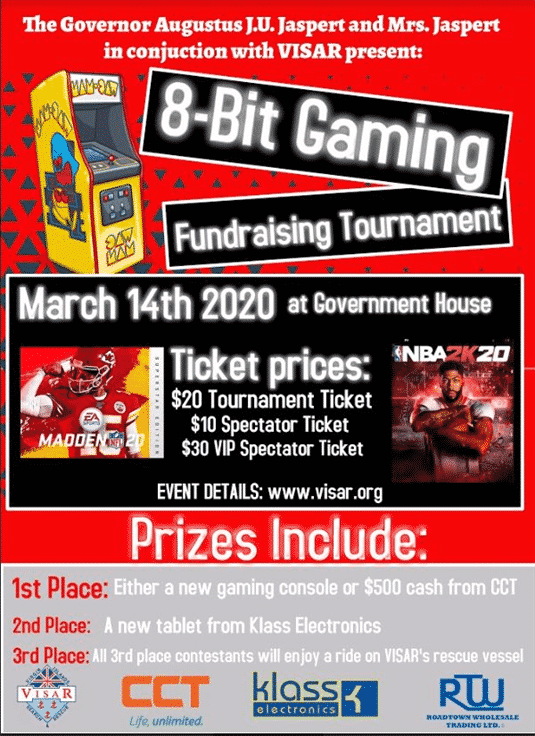 Event Sponsors